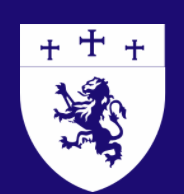 The King's College, New York City
Is it possible to combine the advantages of a small Christian college with access to metropolitan opportunities? The King's College, located in lower Manhattan just a few blocks from Wall Street, offers exactly that.
While on campus and inside your luxury apartment, you will spend your time in a scholarly, intimate Christian community. With a student population of just 430, you'll be swiftly welcomed into a community where you won't be lost in a sea of faces. At the same time, you will have access to one of the largest cities in the U.S., bringing you unparalleled opportunities for internships, mentoring, and jobs. In your free time, you can step out into the thriving, multicultural city. Picnic in Central Park, see the skyline from the pinnacle of the Empire State Building, or wander the exhibits at the Metropolitan Museum of Art. In short, you will receive the best of both worlds.
"Because of the size of King's, students really have the opportunity to get to know their professors and create relationships with them. Often, professors are able to advise students on internships and different opportunities that occur during your time at King's."
—Deborah Gonçalves, senior
POPULAR MAJORS AT THE KING'S COLLEGE
The King's College has strategically chosen to focus its academics around the liberal arts. This core forms an excellent foundation for the college's majors. Our three most popular majors are:
Business Management: This degree equips students with the ethical and practical skills to lead businesses that thrive in a world economy while putting the betterment of humanity first.
Media, Culture, and the Arts: The Media, Culture, and Arts curriculum grounds students in the humanities and media theory, giving them the power to tell stories and communicate ideas which inspire people.
Philosophy, Politics, and Economics: Students in this major engage with great thinkers on these subjects throughout history, giving them the power to handle the challenges of modern society with wisdom.
"I always say that the best part of the school is the extent to which it empowers us to step into our own as adults. We dress in business casual for class, work and intern at the most prestigious institutions in our field, maintain our own apartments, join a local church, and take positions of real leadership within student government at the school."
—Brent Buterbauch, junior
Note: Our students develop strong critical thinking skills that form an excellent foundation for STEM graduate work (a number of our alumni have gone into medical school in particular). However, students seeking an undergraduate STEM degree may be better served by another college.
CLUBS AND SOCIETIES
Be a part of the many student life opportunities at The King's College, including these and more:
Empire State Tribune: The official student-run newspaper of The King's College, reporting on stories and features of interest to the community.
Empire State Television: The Tribune's video production arm, which helps train students in video production and broadcast journalism.
Investment Club: A Christian community of investors, dedicated to further learning about trading and finance.
John Quincy Adams Society: A foreign policy group providing a venue for students to discuss global events and America's role on the world stage.
King's Debate Society: Participates in high-caliber intercollegiate debate competitions.
King's Players: Fosters students' exploration of their talents in theater.
ATHLETICS AND RECREATIONAL SPORTS
For athletes, The King's College offers the following sports:
Men's Basketball
Men's Soccer
Women's Basketball
Women's Soccer
Women's Volleyball
Those interested in competitive athletics at King's should fill out our Prospective Student Athletes form. Looking for something purely recreational? King's also offers the following:
Co-ed Running Club
Men's Rugby Team
Kayaking
Intramural Basketball Competition
STUDY ABROAD WITH THE KING'S COLLEGE
Thirty to forty students from The King's College travel internationally each year with our various study abroad programs. The most popular is a trip to Israel (in partnership with Passages Israel), on which students spend ten days in the Holy Land, studying ancient and modern Israel. Generous funding from a donor means our students pay only $880 for this opportunity.
STUDENT HOUSING AT THE KING'S COLLEGE
On-campus housing refers to apartments (not dorms) owned or rented by the school. These apartments feature full-time security services. Two residences are in Manhattan, just a five-minute walk from campus, with a third in Downtown Brooklyn, only a fifteen-minute train ride from the school.
SCHOLARSHIP OPPORTUNITIES FOR CLT TEST-TAKERS
Students who achieve a score of 100 or higher on the Classic Learning Test (CLT) are guaranteed to receive a minimum Presidential Scholarship of $15,000 at The King's College. Go here for further information about our scholarship programs.
ADVICE FOR APPLICANTS
If you're a high school student who is interested in King's, here are three tips that will prepare you to thrive in our community:
Practice personal discipline: Classes at King's require students to be motivated, able to complete coursework on time, prepared to engage in thoughtful discussion, and capable of managing outside commitments.
Cultivate curiosity towards the world: The students who do best at King's are inquisitive and love learning about God's creation in all its aspects, from the arts to business to history.
Be rooted in your faith: King's is not a place to spiritually "coast." Be grounded in the gospel and its application to our world, and prepared to grow in your faith.
"I absolutely love the community here at King's! With a student body of less than 600 and a small staff and faculty, it's hard not to know the majority of people who attend or work at the school. I have made some of the best friends I have ever had, been blessed with incredible faculty and staff advisors, and have had the opportunity to learn from wise professionals who care about me as a human as well as a student. The thing I am most thankful for is the way I have grown spiritually. I am in love with Jesus in a deeper way than I ever have been before."
—Serena Tuomi, senior
THE KING'S COLLEGE AT A GLANCE
Location: New York City
Student Body: 430
Male/Female Ratio: 40/60
Average Class Size: 15 : 1
Athletics: USCAA Div. 2, HVIAC conference
Official Colors: Navy blue and white
GO HERE TO LEARN MORE ABOUT THE KING'S COLLEGE!
Published on 1st October, 2020.