My Time at
the King's College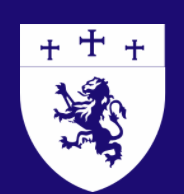 The King's College unites a Christian worldview, a high-quality education, and a cosmopolitan setting.
Martin Luther King Jr. wrote, "The function of education is to teach one to think intensively and to think critically. Intelligence plus character—that is the goal of true education." A college education is meant to teach a student how to think, and how classical ideas and timeless truths impact our lives. When choosing a college, finding one that would focus on the true purpose of education was therefore of the utmost importance to me, and I found it at The King's College.
To begin with, the professors are deeply invested in the success of the students. Before I ever visited the campus, it was obvious that the professors were interested in getting to know me as a student and forming a personal connection with me that would allow them to teach me as best they could.
Moreover, the professors welcome student involvement in the classroom; they frequently engage students in ways that I had never experienced before coming here. In his class Western Civilization, Dr. Brand assigned each of the students to different civilizations, then went through various historical events and asked students how their civilization would respond to the event. This eventually guided us to understand the beginning of the Persian Wars and exactly how they happened. By such methods as this, Western Civilization does not feel like a lecture, but like a human story.
In addition to learning the material itself, professors at The King's College want to be sure that students understand why they are learning it. In all of my classes, my professors have tied what we are learning back to both religion and life beyond the classroom. To kick off the school year, my Foundations of Politics professor assigned the essay Learning in War-Time by C.S. Lewis. We spent the first class discussing why, despite living in challenging circumstances, it is still important for us to be here at The King's College getting an education. Along with this, we were assigned to read what St. Augustine had to say about balancing public affairs and religion in our lives, a reading that put into perspective how much we were allowing politics to influence us in these times, rather than letting faith guide us. Everything that we have learned has not only been thought-provoking, but practical.
In the heart of Lower Manhattan, The King's College is a small enclave within one of the largest communities in the world. With New York City as a campus, and a dedication to the true purpose of education fused with a Biblical worldview, The King's College is an opportunity to grow not only in intelligence, but in character and faith.
Go here to learn more about The King's College and apply!
Published on 25th September, 2020.