Interview:
Introducing Kate Foley!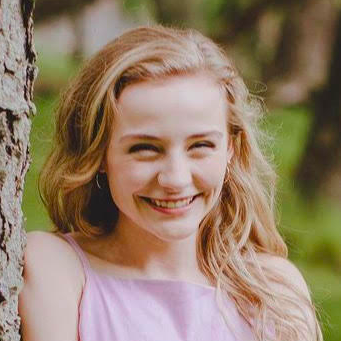 CLT recently took on Kate Foley as an editorial intern for the summer. Miss Foley is not only a former CLT student, and an exceptionally high-scoring one at that: she contributed the first ever student essay to the Journal! Now, with two years of college under her belt, we sat down with Miss Foley to ask her about her experiences—past, present, and anticipated—with the Classic Learning Test and the education it's a part of.
CLT: It's great to have you back, as it were! Please tell us a little about yourself.
KF: I'm from Grand Rapids, and I'm a student at Central Michigan University. I love to write, draw, bake, and create in any way I can!
CLT: And what are you studying at CMU?
KF: English Literature, with a minor in History.
CLT: Are there any favorite aspects of those fields you'd like to highlight for us?
KF: To me, the appeal of literature is that it is really a study of life. When we read someone's writing, we are seeing into their perspective, and gaining new eyes with which we can see the world. I think that being able to focus on this gives me the opportunity to expand my mind and be able to understand people, more than I could otherwise.
My love for history is connected to my passion for literature. History gives me a real-life foundation, because it shows me the cultural factors that have influenced people in the past. Learning about this helps me to understand what the influences on people around me might be!
CLT: I understand you transferred to CMU after spending some time at Benedictine College in Kansas, which is one of our partner colleges. What was it like there?
KF: My time at Benedictine was formative, very focused on the Western tradition. In particular, it helped me to realize my love for history. Their history department showed me how history is more than just memorizing facts; it's a study of our culture's story, good and bad. I think realizing this was especially poignant to me because it tied in so well with the messages of classical education.
CLT: Was it hard to transition from an environment like that to a state school like Central Michigan?
KF: I was a little nervous. I had only been in classical environments, and I thought I might be in a constant battle for my thoughts and find nothing of value in what I was studying. I could not have been more wrong! My classical foundation gave me the critical thinking skills I needed to understand what I was studying, even if at times I might not agree with it. I had learned what it was to be human, so I was able to find that common thread of humanity throughout all my courses.
CLT: What was it that got you interested in interning with us?
KF: Your willingness to use students' work in the Journal. The essay that I wrote for the CLT exam portion was published soon after I took the exam, and that generosity made an impression on me. So, when I was thinking about finding summer work, I was very interested in working with you.
CLT: We're so glad to have you! Are you considering working in education or the liberal arts long term?
KF: I think a career in that field would be extremely fulfilling!
CLT: Glad to hear it. One last question: are there any favorite books of authors that you'd like to recommend to us?
KF: One of my favorite authors is Fyodor Dostoevsky. When I was sixteen, I read The Brothers Karamazov for the first time, and it entranced me. The huge cast of characters, all with very similar names, might dissuade you from reading it at first! But I promise, once you push through that, this book will become one of your favorites. Dostoevsky is a master of character, and he intertwined his plot with fascinating philosophical discussions and parables that you'll remember for the rest of your life.